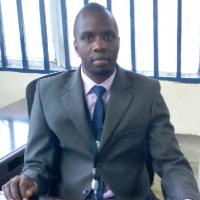 Jonah Mudogo Masai is an ambitious, highly motivated, hardworking, confident and passionate actuarial science graduate with remarkable degree of adaptability and a team player. Having worked in Directline Assurance company and currently in treasury department in one of the leading banks in Kenya, it's crystal clear that with resilience and constant believe in God, everything is achievable and that fortune favors the brave. In addition, Jonah is well conversant with R- programming language and looks forward to further his studies in the same field since current life dynamics requires ideal, astute and timely risk mitigating measures which is core in Actuarial Science.
ABSTRACT
MODELLING TIME TO DEFAULT ON KENYAN BANK LOANS USING NON PARAMETRIC MODELS
Financial institutions in past decades have been facing many risks that must be dealt with sensitively and in accordance with the instructions of the Central Bank of Kenya (CBK). In the forefront of these risks is credit risk which in case is ignored would likely plunge the banks into myriads of problems or even to bankruptcy. Papers on statistical models detailing on how to model credit risks have been published and have enabled banks to differentiate 'good' and 'bad' clients contingent on repayment performance during loan term. Credit granting is one of the main ingredients required for an economic spur in any given country. However, the technicalities attached to it poses a dilemma to the lending institutions on the appropriate approach to adopt when lending to minimize losses resulting from default. The objective of this research is to identify credit scoring factors and to select non-parametric models of survival analysis which is most effective to model time to default. Variables considered based on FICO include income of the company, age of the company and account. It was evident that oldest companies whose accounts were opened more than 8 years before loan application have lower tendency of default. Also study show that Nelson Aalen is a better estimator of time to default to Kaplan-Meier. The study recommends more studies to incorporate macroeconomic variables to establish their impacts on client's loan repayment performance and further estimate time to second default. It will also be interesting to extend this studies to the mixture curse model and study the performance of the resulting model in comparison with Cox proportional hazard model with penalized splines as our study involved univariate method.